RPG.Net in allen Facetten: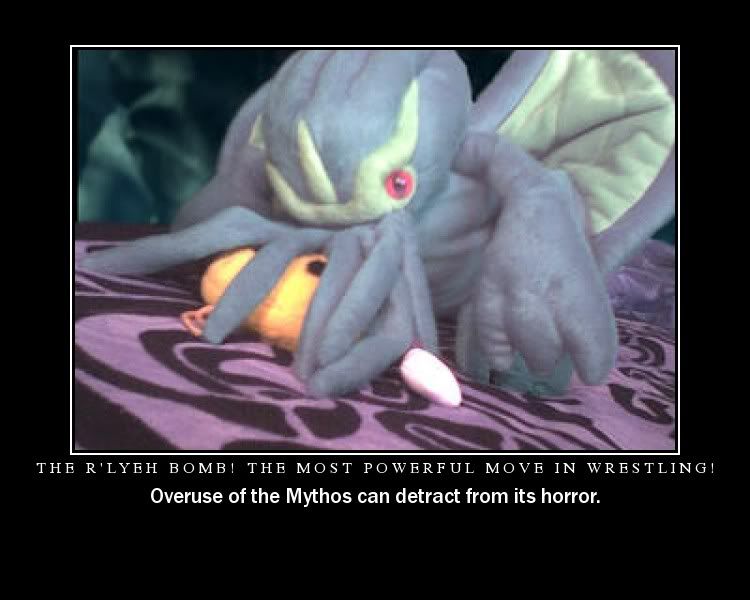 Neueste
"Informationen"
zum neuen BRP.
Tony Lower-Bausch hat, Autor von Capes!, nachdem er im "[Theory] Okay, explain it to me" thread bei RPGnet als Reaktion auf die Rollotheoriefrage: "Didn't everyone start out knowing this stuff?" (Hey, I thought so) seine Maske fallen gelassen.
Tony, der Theoretiker der Eisen wachsen läßt:
"There is a gulf between the beginning stages that people can teach you quickly, and the end stages that give the big results, and that gulf is called your ignorance.
You are trying to use your own ignorance as a source of authority. If people can't teach you every single step from first principles of the theory right to the end product of their game ... if they cannot fix your ignorance entirely while you actively resist their efforts then you claim that gulf must be unbridgeable. Because you "don't see the connection" you claim it isn't there.
That's a moronic, pitiable, self-indulgent, pathetic, spurious, toxic, pointless, juvenile, illogical, foolish, arrogant, badly-dressed argument. I rather suspect that you are the only one who doesn't see that.
Stop embarrassing yourself. It makes me sad to watch you".
Danke, Tony!
Addendum germanicum: Auf Stefan Franks lustigen Hörspielseiten gibt es diesmal ein Interview mit einem der Industriefantasyschreiber. Wieder mal die Belletristik-Offensive.
ARG!
IHR SOLLT SPIELEN UND NICHT LESEN IHR KRUMPELHIRNIS!
Leider ist der Typ wirklich nett, und sollte das neue deutsche Sci-Fi Rollenspiel schreiben, aber nein: Ihr Fantasywichser, die Ihr immer die gleichen Schrottgeschichten lesen wollt ANSTATT selber zu rocken und zu zocken beherrscht den Markt. Schlimmer, die Bestsellerlisten.
o tempora, o civitates!